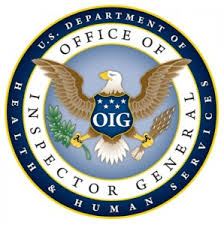 THE OIG: A Brief History
The Office of Inspector General (OIG) was established in 1976 with the core mission of protecting the integrity of the programs carried out by the Department of Health and Human Services (HHS), and consequently, safeguarding the health and welfare of the beneficiaries of said programs. With approximately 1600 members, the HHS OIG is deemed as the Federal Government's biggest inspector general's office.
Each one of these 1600 members is driven by the same goal: to fight waste, fraud and abuse in Medicare, Medicaid and more than 100 other HHS programs, which happen to receive some of the biggest allocations from the Federal budget, and in turn, has become highly susceptible to criminal and civil offenses.
Here is a brief timeline of OIG's development:
October 15, 1976– President Ford signed a law legislation creating an Office of Inspector General (OIG) at the Department of Health, Education and Welfare (HEW). In 1980, HEW OIG became HHS OIG, after HEW was revamped as the Department of Health and Human Services (HHS).
October 27, 1986– President Reagan signed an update of the False Claims Act to combat fraud against the Federal Government. Originally signed by President Lincoln in 1863 against war profiteering, this Act criminalized false claims or statements against the Federal Government. It also delineated double damages against offenders and a $2,000 penalty for every false claim.
August 21, 1996– President Clinton signed the Health Insurance Portability and Accountability Act of 1996 (HIPAA), which paved the way to the coordination of Federal law enforcement efforts through the establishment of the Health Care Fraud and Abuse Control (HCFAC) Program.
Through these precursors, The Office of Inspector General has been able to efficiently carry out its goals and has returned a sum of $27.8 billion to the Medicare Trust Funds since 1997.
In 2014 alone, the Federal government won or negotiated over $2.3 billion in health care fraud judgments and settlements and saw $3.3 billion returned to the Federal budget or paid to private persons.
Other accomplishments include:
        

The Department of Justice's (DOJ) opening of 924 new criminal health care fraud investigations, 782 new civil health care fraud investigations, and 957 pending civil healthcare fraud matters.

        

496 cases filed by Federal prosecutors involving 805 defendants.

        

A total of 734 convictions of health care fraud-related crimes.

        

605 ceased criminal organizations and ceased criminal hierarchy of more than 142 health care enterprises.

        

Exclusion of 4,017 individuals and entities from participation in Medicare, Medicaid, and other federal healthcare programs.
With its Strategic Plan 2014–2018 underway, The Office of Inspector General (OIG) aims to continue its programs guided by its core principles: (1) fighting of fraud, waste, and abuse. (2) promotion of quality, safety, and value. (3) securing the future. (4) advancement of excellence and innovation.
http://oig.hhs.gov/about-oig/about-us/index.asp
http://oig.hhs.gov/publications/docs/hcfac/FY2014-hcfac.pdf
http://oig.hhs.gov/reports-and-publications/strategic-plan/index.asp
http://oig.hhs.gov/reports-and-publications/strategic-plan/files/OIG-Strategic-Plan-2014-2018.pdf
http://oig.hhs.gov/publications/docs/retrospective/AnniversaryPub.pdf